The Fit-N-Spin is a simple and versatile teaching tool that has helped me infuse classroom activity while integrating a variety of academic content areas. Whether it was a game show review or matchmaker memory game to challenge students, we all enjoyed the "spin-to-win" theme the Fit-N-Spin brought to the classroom experience.
With the Fit-N-Spin, a student or teacher spins the wheel to determine the activity the class will perform. Teachers can easily change the activity template to match the focus area. I would encourage teachers to use the blank template spinners to allow for the opportunity to customize a learning activity. Taking it a step further, a teacher could have multiple wheels throughout the room during small group activities.
What I like about this helpful classroom activity tool is the variety of physical activities the spinners focus on, including health-related fitness, skill-related fitness, nutrition, sports, and locomotor skills in addition to the blank templates. I also appreciate how the spinner pack includes activity ideas and review questions that integrate math and academic content.
Whether you are a classroom teacher or a physical education specialist, the Fit-N-Spin is a teaching tool that is useful in any classroom and works on a variety of levels. It provides classroom activity breaks, integrates customized learning, increases student physical activity levels, and supports the physical education program. You can hang the durable spinner on the wall, set it on the floor, or place it on the Fit-N-Spin™ stand. I use command strips hooks to hang mine on the wall and whiteboard.
My favorite uses for the Fit-N-Spin:
Nutrition Memory Matchmaker:

On page two of this link you'll find the physical education version of this activity from my website. You can also do this activity in the classroom with the Fit-N-Spin (as seen in the pictures of this blog with my health classroom students).

Students work together in teams to complete the activity in memory game style to find matches. For every correctly matched pair (we were using the NutriPlay Nutrition Cards for this nutrition-themed review game), they spin to determine the exercise they must do as a team before the next teammate goes out to find a pair. If they do not find a match, they all do 10 jumping jacks as team, and the next person goes to find a pair.

Game Show Style Review Activities:

Students love game show style review games. From earning points to working as a team, it's a timeless activity for teachers. Keep the review game simple, have fun, and use the Fit-N-Spin as your game show guide to determine what students will do to be active. Or use the blank template to determine the game show categories.
Students/teams take turns spinning the wheel to determine the category question or the depth of knowledge of a question. A second spinner could provide the exercise everyone will do to provide a physical activity option for the students.

Activity Breaks – Brain Boosts:

The simplest way to use the Fit-N-Spin is as a classroom activity break or brain boost. Students love being the leader who gets to spin the wheel and lead the activity. Have a spinner at your learning stations as a brain boost for them to complete before moving on to the next station. Or, use time intervals to provide students with a short movement break and then refocus on their work.

"Around-the-World" Review:

Create an "around-the-world" review activity that uses the spinners to keep students moving from one station to the next. To do so, use multiple spinners placed throughout the space.
The bottom line is to provide and enjoy active learning opportunities in the classroom. Use a variety of tools to integrate academic content and active learning to help students be successful and especially help fidgeting students. The Fit-N-Spin is a winning combination that helps mix things up to support the active classroom model.
Fit-N-Spin Template Themes:
Health-Related Fitness activity templates focus on muscular strength, muscular endurance, cardio, and flexibility.
Skill-Related Fitness activity templates focus on agility, balance, reaction time, speed, power, and coordination.
Nutrition activity templates focus on protein, grains, dairy, vegetables, fruit, and MyPlate. Each template pairs an exercise with an item from a particular food group.
Sports activity templates focus on teaching basic skills for basketball, soccer, baseball/softball, volleyball, and floor hockey.
Locomotor Skills activity templates focus on walking, skipping, jumping, hopping, side-sliding, leaping, and galloping.
Blank Templates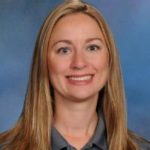 Jessica Shawley is a middle school physical education teacher. She is a SHAPE America National Middle School Physical Education Teacher of the Year and is National Board (NBPTS) certified as a Physical Education Specialist. Jessica received her Master's Degree in Curriculum and Instruction from the University of Idaho and undergraduate degree in K-12 Health & Fitness, Math & Leadership Studies from Whitworth University.