The current pandemic has changed the landscape of American education.  Some teachers and students are together in classrooms full-time. Yet others are working in a hybrid model and some are completely virtual. One data point that is concerning is the fact that when the pandemic hit physical activity levels dropped. Physical activity in the teaching and learning process should remain a priority to get desired academic results.  Whether you are with students virtually or in-person, physically active lessons, energizers and other reasons to move such as class cohesion or preparing the brain to learn should remain a high priority in planning and implementation.
Benefits of Physical Activity in the Classroom
The benefits of these types of physical activities are many including state management, student motivation, meeting our brain's need for novelty, emotional engagement, more implicit learning opportunities, differentiating instruction, and creating a learner brain that is more focused, on-task and efficient. Physical activity also breaks up long periods of sitting in both a classroom and virtual setting. This stimulates more blood flow around the brain and body creating more alert and engaged learners. The other significant development around the pandemic and physical activity are that activities need to be completed individually.  Many wonderful classroom-based physical activities are built around pairs and groups of students. These types of activities are, of course, not currently an option.
Benefits of Brain Primers
When Traci Lengel and I first created the 6-part framework for using movement purposefully and thoughtfully in the teaching and learning process we started with activities that specifically prepare the brain to learn. This includes activities that support vestibular system development such as the one-legged hop and spin, jumping jack spin and the 360-degree spin. Activities such as these support the rolling, spinning, hopping, jumping and the like that students at the beginning their academic careers have done less of than previous generations which makes them less ready for school from a physical perspective.  Current research is also pointing to another powerful way to help prepare the brain to learn and that is through rhythmic, coordinative, beat-based physical activities. This research is showing that these types of activities support executive function skills which are more important to academic achievement than IQ.
Creation of Brain Primers
Dr. Lynne Kenney and I have created something that both meets the current need of individuality during the pandemic and support executive function. The creation of 'Brain Primers' could not be more-timely. These rhythmic, coordinative, beat-based physical activities not only provide all the benefits of classroom-based physical activity that are mentioned above but also support executive function skills such as working memory, response inhibition and cognitive flexibility. Brain Primers also do something unique that other types of physical activities don't and that is provide safe movement for individual learners and build community at the same time. They can easily be done in the classroom or in a virtual setting. Imagine being able to provide your students with fun, engaging physical activity and support academic aspirations as well. Brain Primers checks both boxes! They come in 4 different decks listed below.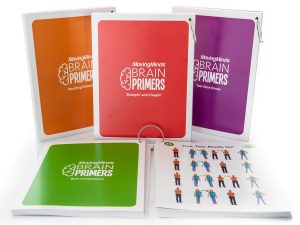 Brain Primers Decks:
The Green Deck introduces students in grades K-6 to developmentally progressive, patterned rhythmic movements as they learn the basics of beat competency.
The Orange Deck focuses on matching patterns and increases the demands on cognition and coordination for students in grades 2-5 as they march during activities.
The Purple Deck ideal for grades 3-6 as it incorporates bilateral and cross-midline motor movements to increase cognitive-motor complexity.
The Red Deck includes complex movements with changes in tempo and timing, while also encouraging students in grades 5-8 to think creatively while collaborating through fun, rhythmic, coordinative activities.
Brain Primers capture your students' attention while stimulating their memory, self-control, and also create the right emotional environment that is so critical to the teaching and learning process.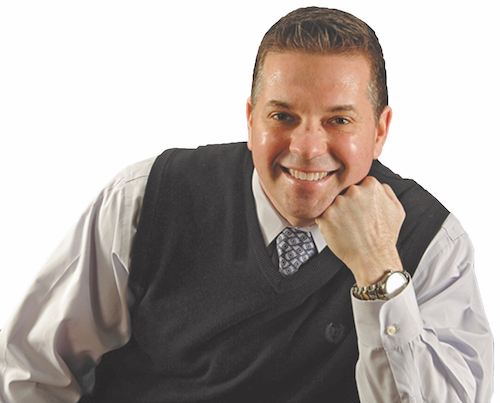 Mike Kuczala is a thought leader on using physical activity in teaching, training, and learning.  He has delivered keynotes, given presentations and taught graduate courses on 4 continents. His presentations, courses, books and videos have reached more than 100,000 teachers, trainers, corporate executives, parents and students.  He is also the coauthor of the Corwin Bestseller and Association of Educational Publishers' Distinguished Achievement Award nominated, The Kinesthetic Classroom: Teaching and Learning through Movement, a book and philosophy that has changed the view of teaching and learning around the world.