Miss Docheff gives her students the 2-minute countdown to let them know they will move to the next activity soon. She rings her bell three times, so they know to stop, look, and listen. Then, she points to the next activity written on the schedule board so they can orient themselves to the activities coming up. She gives quick instructions on what students should do, and then she praises the ones who are following directions in hopes that Aaron, who is still working on his drawing, will follow suit.
It's fun to see elementary teachers who can transition students from one activity to the next without skipping a beat. There isn't an abrupt ending to one activity, rather, the closure of one leads nicely into the beginning of another.
As you keep reading, you'll find tips on how to implement transitions in your classroom, as well as two creative brain breaks! 
How to Implement Transitions
The neat thing is that transitions can include physical activity as a way to get the blood flowing, followed by calming movements to help students focus. Important considerations for transitions:
They should be planned ahead of time. Literally write transitions into lesson plans. 
Directions should be given in small pieces because too many instructions can be overwhelming. 
Disseminate materials prior to lesson to alleviate down time or breaks in flow. 
Transitions should be practiced regularly so they are efficient. 
Creative Brain Breaks
Here are two active transitions I like to use to lead from one task to the next in the classroom setting.
Good Guy Bad Guy
Students stand in their own personal space in the room. Without talking, each student selects their own "good guy". They keep it a secret. Then without talking, they select their own "bad guy". The goal is to tiptoe throughout the room (feet must remain on the floor; no moving objects) keeping the "good guy" between themselves and their "bad guy".
After a little while, students freeze. Then try the same activity with the students keeping themselves between their "good guy" and "bad guy". To calm students after this activity, have them stand tall, close their eyes, and take three deep breaths. Then they should tiptoe to their seat without touching anyone.
Student Yoga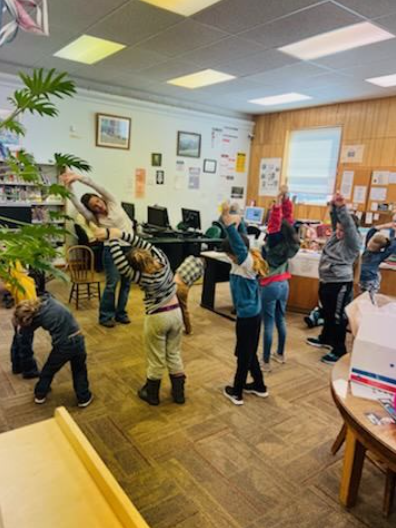 There are many benefits to yoga, but it also makes for an easy transition activity.
Select four simple yoga poses. Have students stand in their own personal space. The teacher can demonstrate poses or use pictures/video clips to demonstrate. Here are four yoga/stretching poses to use with your students! 
Mountain Pose. Stand with feet shoulder width apart, arms at side with palms facing forward. Relax shoulders down, lifting chest. Breathe deeply.  
Tree Pose. Balance on one leg, placing bottom of other foot on ankle or calf. Bring hands to heart. Breathe deeply. Switch sides.  
Chair Pose. Stand with feet shoulder width apart and squat as if sitting in a chair. Bring arms straight out in front, palms facing each other. Hold for 5-10 seconds. Repeat.  
Elephant Hang. Stand with feet shoulder width apart and bend at the hips. Drop head towards floor and let hands hang towards the ground. Close eyes and breathe slowly.
I hope you'll try these with your class today!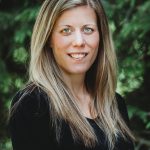 Heather is a Professor in the Department of Kinesiology and Health Promotion at the University of Kentucky. She is a former physical education teacher, and co-author of Dynamic Physical Education for Secondary School Children, 8ed. Heather was also the recipient of the NASPE Curriculum and Instruction Young Scholar Award and a AAHPERD Research Consortium Fellow.