Six months ago, I began a new journey with Moving Minds. I took on the role of brand manager and started the transformation to fully believing in the power of active learning. Before this? Well, I believed in being active. I ran daily, made sure my kids were outside all year-round, and avoided TV on the weekends (unless it was raining, or I only had four episodes left to get caught up on GoT. I am human of course). But, then I started reading, learning, exploring, and became a convert.
It started with SPARK by John Ratey (2008). It continued to evolve with studies from colleagues at Steelcase, professors at the University of Kentucky, and a challenging exercise with my friend Mike Kuczala during a RunningBrooke training event in DC. And then, I dropped my daughter off in her pre-school classroom this past January.
There were 6 total chairs. There was no dedicated "front" of the room, instead the classroom was centered around station learning. Granted, she was in a class with 10 students and the average age was 4-1/2, but during the next few months, we watched her evolve from this tiny young person to this (still tiny) person with an expanding wealth of knowledge. When I asked "Teacher Lisa" about it, her response was, "Why would you keep any person seated for more than 30 minutes at a time, let alone a young child? That is not a great learning environment."
TEACHER LISA! AAAAAHHHHHH (cue shining lights, clouds parting with the sun casting over a field of sunflowers). Teacher Lisa has it dialed in.
Too Many "Front" of Classrooms
Kindergarten is just a year away, and I have started taking notice. There are a whole lot of chairs in some of these classrooms, along with too many desks and too many "fronts" of classrooms. As a parent, I am discouraged. As the brand manager for Moving Minds, I am enthusiastic to change the world.
I am a marketer; not a teacher. I happen to have a Masters of Education and have spent time in front of a classroom on college campuses, but I have not taught in a K-12 space. That space is challenging, light on resources, and BUSY. But, I understand that learners have varying needs. There is no one style that works best with everyone. Educational theory has been evolving at a crazy pace, and I wish I could say that about our institutional spaces. The time is now to go all in on active learning.
Let's Make a Change…Together!
Call to action time (get those "ears" ready)—let us come together as a community and change the classroom landscape as we know it from this point forward. Let's be friends, educational partners, and colleagues. Let's find a way to tackle this great and grand challenge.
Thanks, Teacher Lisa for the inspiration.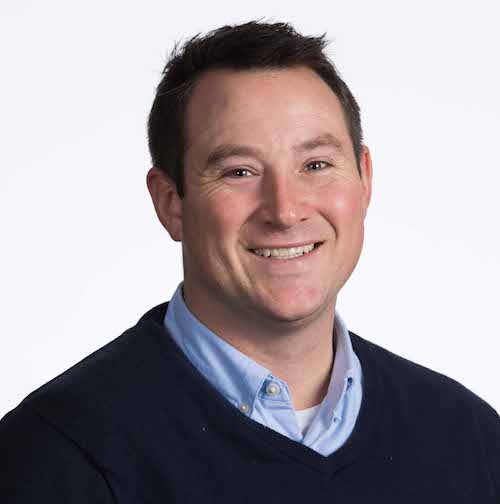 Matt Levine is the Brand Manager for Moving Minds. He holds an Master of Education, Educational Leadership and Policy Studies from Iowa State University and a Bachelor of Arts in Psychology from Drake University. Matt came to Moving Minds in 2018 after working in higher education for more than 10 years, serving time in student life and activities and leadership development programming. When Matt is home and not chasing his two kids Ellie and Will around the yard (who are typically chasing their dog Ruxin around the yard), he enjoys cooking with his wife Anne, and embracing the outdoor activities that Minnesota offers!