Have you been dreaming about adding a flexible learning space in your classroom or school? Or maybe redesigning or upgrading an existing space? Let us help make your dreams come true with! It's easy! Simply tell us about your space and we will provide you with a custom list of products and a 3D rendering of your new space. Rosie from Regina High School, located in Warren, MI, used Classroom Planner to add flexible seating into existing classrooms. Continue reading to learn more about her experience!
Classroom Planner Process
Rosie received a Moving Minds catalog and connected with her Sales Manager, who told her about Classroom Planner.
"It was very simple to get in touch with someone at Moving Minds! I made an initial email or phone call and was connected with Evan Moe. After a call with Evan, we were able to schedule a call with other members of the design team to help us navigate updating our space. Everything after that involved easy email contact, and Moving Minds was very fast about responding."
"Working with Moving Minds has been great. They are quick to reply to emails and have been very helpful with all of our inquires. They even offered to help with a presentation of their product to our school administrative team," Rosie said.
Rosie's favorite part of the process was receiving the drawings of her spaces, showing the potential of what it could look like.
The Goal
Regina High School was looking into larger scale furniture and active seating updates in their building. This year, they decided to update one classroom, serving as a pilot space, that all teachers will trial and provide feedback.
Furniture
In addition to updating the physical space, the high school worked with Moving Minds to outfit the room with flexible seating, alternative seating options, and furniture that promotes a collaborative work environment.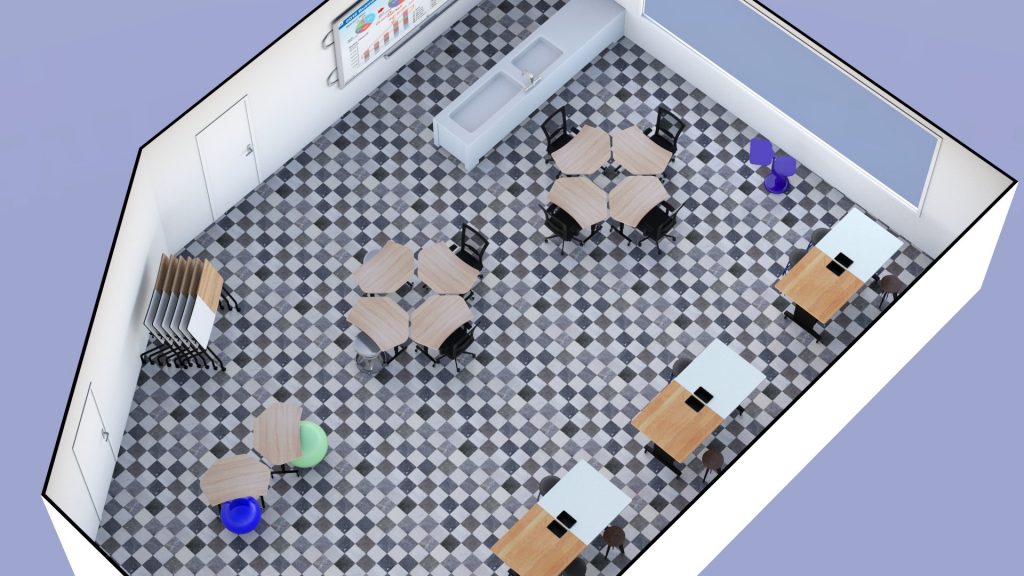 Featured Products:
Replacement Processes
There were issues with some of the product received, but Rosie explained that the replacement process was fairly simple.
"I had to make a claim through Customer Care and they were able to replace all products that we needed. We had a few installation issues and they were very helpful each time."
After Rosie's claims were processed the new products were shipped at a very timely manner.
Student and Staff Feedback
Students at Regina High School are loving the new space!
"They love the variety of seating, the ability to move within their seating options, such as the SaddlED Active Desk Chairs and KORE Wobble Chairs, and having a space that promotes collaboration."
Rosie said, "Both students and teachers love that all tables are on wheels and easily configured to whatever layout is necessary for the lesson within seconds. We have had so much positive feedback since the room has been set up."
Regina High School also updated paint colors and involved their art students in the design of the room. In addition to designing and painting a mural, ceramics students designed sgraffito tiles that have been mounted on the wall. They eventually will form into a larger mosaic wall.
They have not measured the impact of the new space yet, as it is a pilot space, but are making plans to do so in the future.
We Can Help You Design Your Active Classroom
If Rosie's story inspired you to update an existing space that promotes collaboration and movement, then tell us about your space and we will be in touch with you!