Fidgeting and movement come naturally to all of us, especially to young learners. Instead of suppressing those actions, Staphany Wesely, a special education teacher, says she promotes movement in her class! Continue reading to learn why she added active seating to her classroom and the improvements she's seen from her students.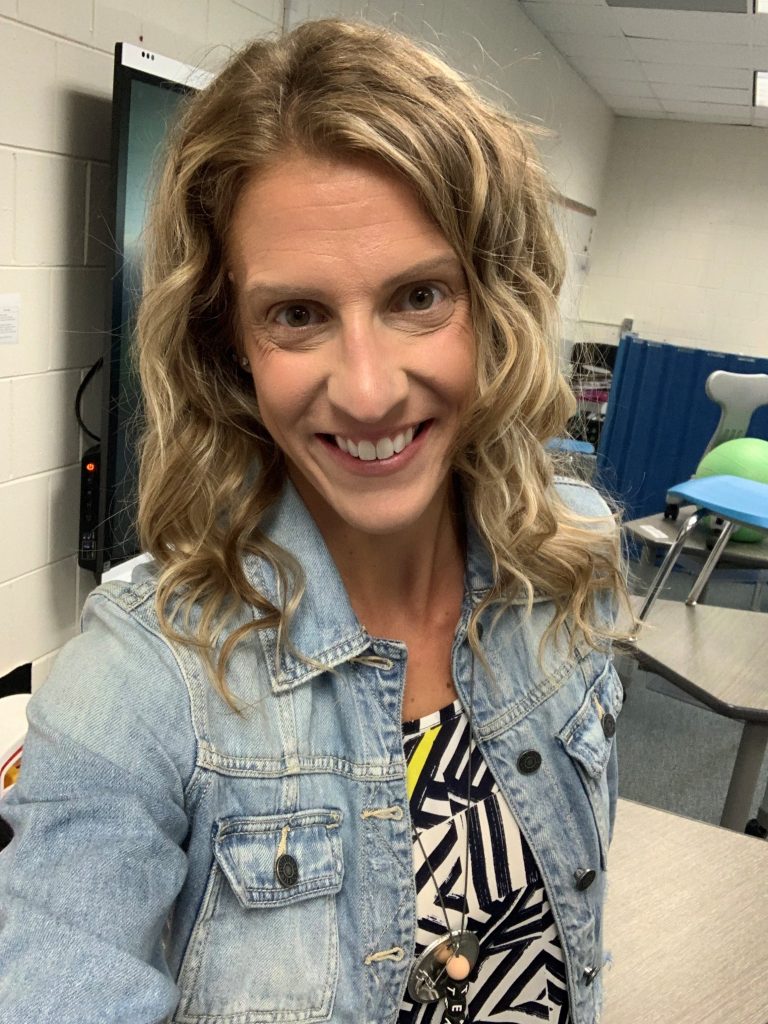 Tell us a little about yourself!
S: I am currently teaching a combined elementary setting 3 classroom for students with Autism and developmental delays who need significant support to be successful throughout their day at school. I teach my students using the STAR curriculum, an ABA-based program that supports student learning through 1:1 instruction, whole group, small group, and the opportunity to visit general education classrooms when appropriate and ready. We use common language, visuals, working for charts, first-then cards, and visual timers to support understanding of transitions and expectations.
I have worked in this type of classroom for 4 years. My first 3 years were in the early childhood setting and then this past year I moved to elementary, which I love so much. This will be my 9th year teaching and I am beyond grateful to be able to work in the school district that I grew up attending.
I am married to my husband Brad, it will 4 years in October, and we have a wild and loving Springer Spaniel, Ranger. We enjoy hunting, fishing, and being outdoors. I enjoy anything that has to do with fitness, health, and mental wellness. I enjoy running and yoga.
What is one thing that really stuck with you when learning about kinesthetic classrooms?
S: For me, I think has been letting go of the "normal" thoughts of how a classroom should look and sound for students to be learning and realizing that kids need movement, and we can provide that for them.
Bouncing on a ball chair, spinning on a wobble stool, jumping on a trampoline doesn't mean that students are not paying attention, it actually means just the opposite. Because I allow them to move, they are learning more, and I am giving fewer redirections which allows my students to be independent in getting their needs met during our day.
When adding active furniture what were some roadblocks you've had?
S: The biggest roadblock is money. Our district works extremely hard to be able to provide as much as they can for us, but I understand that there is not an unlimited budget. I am grateful for all of the active seating options we have been able to order while continuing to check out garage sales and other places for used furniture that is in good condition to bring into our spaces.
How did you get your staff on board with adding active furniture?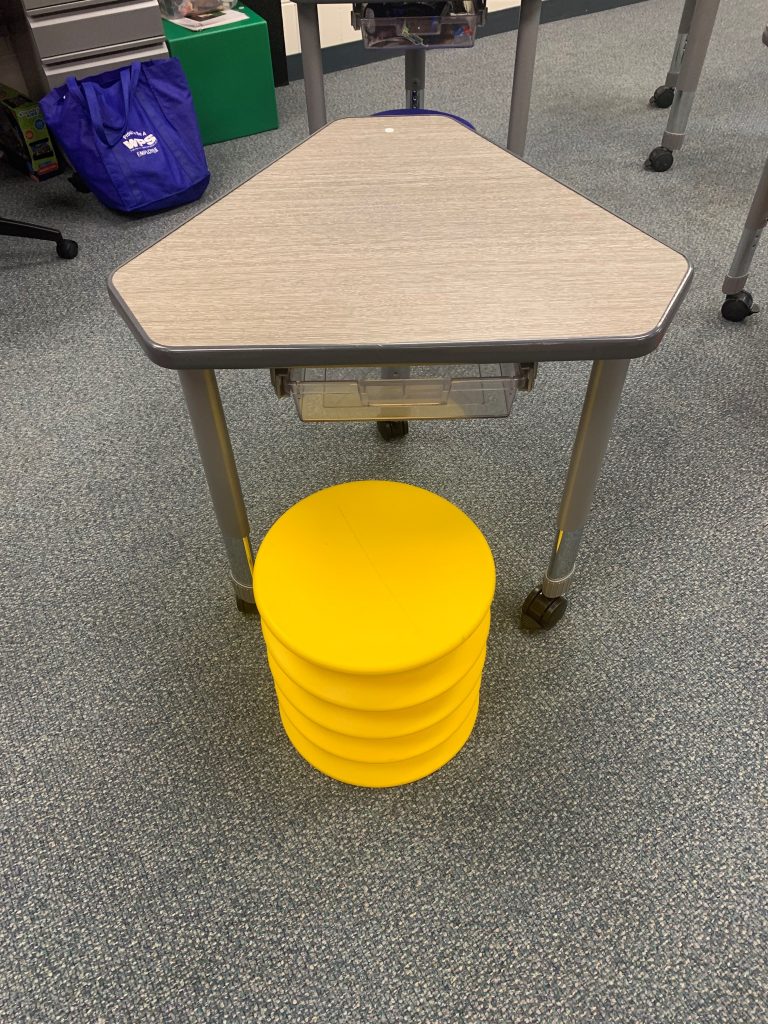 S: After taking a recent class, I discussed it more and more with my staff and as a group we decided to give a few new things a try. We know that our students show us what they need, so by observing them on a daily basis and seeing what they gravitate towards during our typical "sit and get" times we were able to trial options and then feel the difference in our classroom.
How are you maintaining the furniture with new cleaning protocols?
S: We have been following district guidelines with our cleaning protocols. Most of our seating options are used by a single student since I don't have students coming in and out of my room.
Why do you think it's so important for students to move throughout the day?
S: So much of our youth (and adults) spend an excessive amount of time sitting in front of a screen, on the couch, on the bus, in the car, etc. that their little bodies crave movement. Movement can stimulate the brain for learning and if I can combine movement with a specific academic skill that my students can then remember the movement when asked to remember the skill, which shows me the importance.
Do you plan to measure the impact of active seating on mood, grades, behavior, etc.?
S: We have been taking data on behavior, engagement, and lesson progression for our students based on their individual IEP goals and objectives. I plan to continue with this data tracking throughout summer and the school year.
What are some positive changes you've already seen in your students?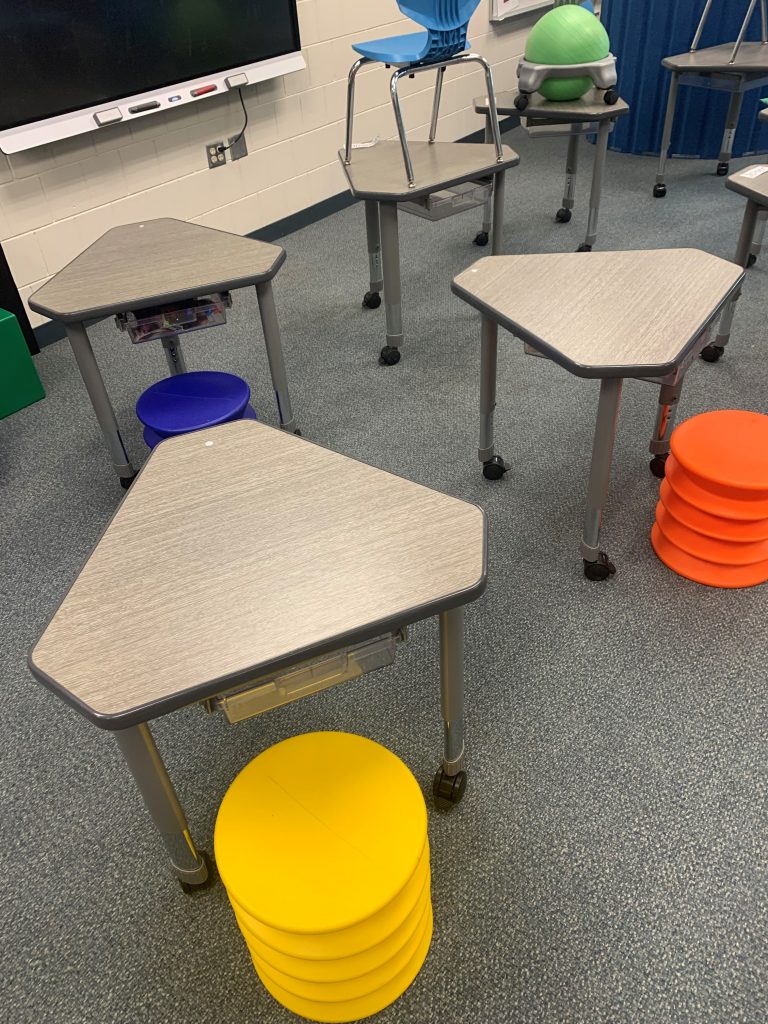 S: I have one student who had difficulty being at group time and always wanted to be on the trampoline. To help him, we moved the trampoline to his table spot for group time. This allowed him to jump on that during group time. We also incorporated clapping our hands and stomping our feet during the ABC song. I have two students who are now able to sing the letters who couldn't 6 weeks ago. Overall, the addition of movement in our day has brought a lot of positive changes.
How do your students like the new furniture?
S: My students love the new ergoErgo chairs! They seem to like the movement they provide for them but also the stability. We also use ball chairs. I have a student who enjoys bouncing during our group time which has increased his focus and engagement.
Did you get funding or money from your district to purchase?
S: Our district purchased the chairs. I am able to find items that I would like to use in my classroom based on student needs. I then put in a requisition (purchase request) for those items. The district either consents and orders or declines. These were approved. I found these chairs after taking an online course for adding movement in the classroom.
Federal Funding Toolkit
This free guide will help you understand federal relief funding! Use this resource as a tool to start a conversation with your principal or administrator.